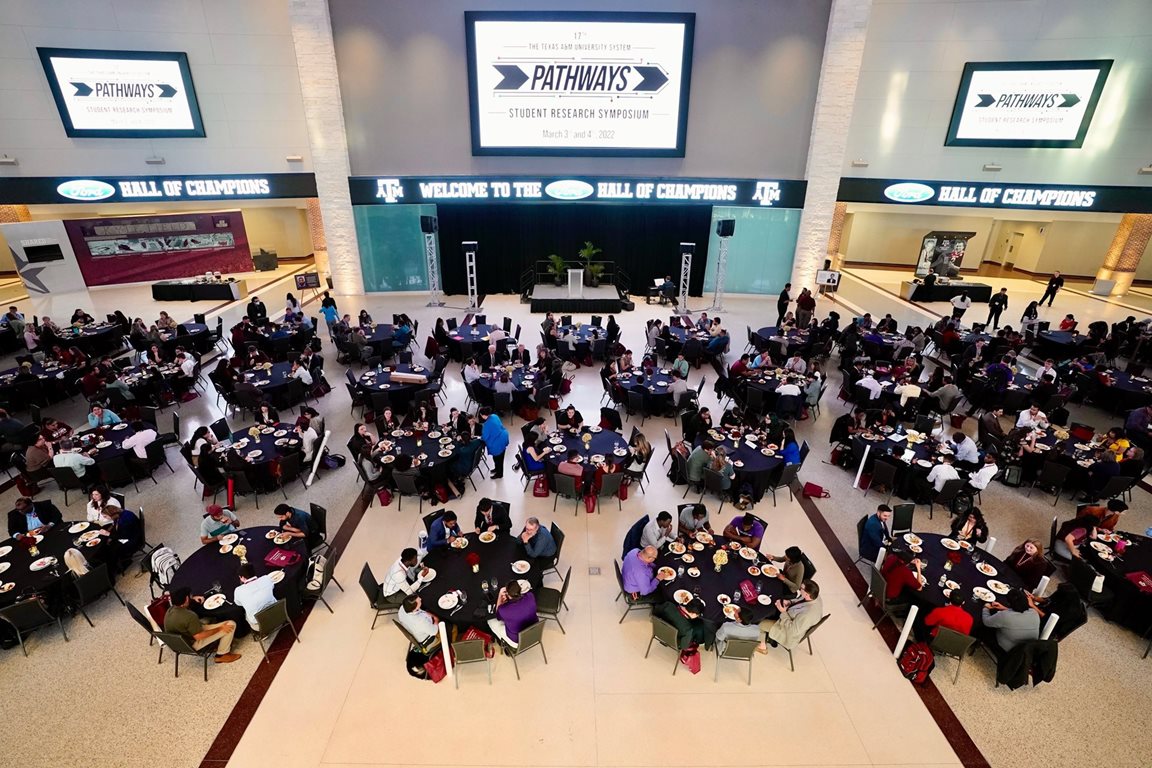 Texas A&M Hosts The Texas A&M University System Pathways Student Research Symposium
Two-day event draws over 400 attendees from all eleven System institutions
COLLEGE STATION, March 7, 2022 – The Texas A&M University Graduate and Professional School hosted The Texas A&M University System Pathways Student Research Symposium on Thursday and Friday, March 3 and 4, on the campus of Texas A&M University in College Station. Over 400 student presenters, faculty judges and guests from The Texas A&M University System's eleven universities, including the host institution, attended the two-day event, held in Kyle Field's Hall of Champions and the Memorial Student Center to promote and advance student research System wide.

Undergraduate, master's and doctoral students shared their research in various formats, including poster presentations, oral presentations, and lightning talks. In addition to research presentations, all System institutions were able to showcase their graduate programs in a graduate fair. Other symposium programming included professional development sessions, plenary sessions featuring guest speakers, campus and academic program and facility tours, and the opportunity for students to take professional headshots.

At the symposium dinner on March 3, Dr. Andrea Roberts, Texas A&M professor of urban planning, delivered the symposium's keynote address. Roberts shared the story of how she turned her personal interests into her research passion and outlined her current research as director of the Texas Freedom Colonies Project, an initiative dedicated to preserving the history of Texas's early Black settlements.



Dr. Andrea Roberts, Professor of Urban Planning, delivered the keynote address

"We wanted to give students from around the Texas A&M University System a well-rounded experience," said Morgan Schweller, professional development coordinator for the Texas A&M University Graduate and Professional School and event organizer.

"Giving students the opportunity to learn and grow from presenting their own research was our focus, but we wanted to also inspire them, give them professional development opportunities and show off our campus. Through Dr. Roberts' talk about how she became a lifelong researcher, the professional development sessions that are so important to student success, the grad fair, and campus tours we offered, I think we successfully created a total, student-centered experience," Schweller said.

The star of the symposium, though, was student research. Undergraduate and master's students shared their research in poster presentations on Thursday. On Friday, undergraduate and master's students gave 15-minute oral presentations and doctoral students presented 5-minute lightning talks.

Karen Butler-Purry, Associate Provost and Dean of the Texas A&M Graduate and Professional School said that the breadth and depth of the research taking place throughout the Texas A&M University System was most impressive.

"It's amazing to see the kinds of research students are doing all across the System," Butler-Purry said. "From using AI to detect cyberattacks before they can damage systems to improving efficiency in capturing solar energy to the impact of defacing monuments erected in honor of victims of racial violence, our System students are doing research that will no doubt have a positive impact on the world. This kind of high caliber, high impact research is really a testament to the strength of the Texas A&M System and the research enterprise that the System has built," Butler-Purry said.



Texas A&M University-Commerce student Vida Storm Robertson