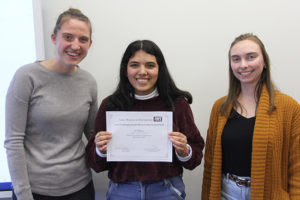 Now more than ever, diversity and inclusion are important to foster and consider. Aggie Women in Entomology (AWE) is just the organization to do so. AWE aims to provide opportunities for women to develop their skills in leadership, mentorship, and excellence. AWE is open to undergraduates, graduates, postdocs, and faculty. Allies of women are also welcome.

I spoke with the current president of AWE and PhD student, Jaclyn Martin. She said that AWE benefits its members in many ways, such as organizing a symposium to highlight women's research at the Annual Entomological Society of America's national meeting. This symposium is an excellent way to give AWE members a chance to invite, correspond, and network with other women in STEM (particularly with a focus on entomology). When asked, she said that her favorite part of being in AWE is working with peers in entomology and other STEM fields. She gets to meet other fabulous women scientists. Additionally, she enjoys designing and creating merchandise for the group. All funds from merchandise go towards its members to facilitate group activities such as mentorship programs to serve undergraduate students.

Another activity that AWE participates in is a weekly writing group. This allows members to get feedback on their manuscripts, conference abstracts, grants, and more. Writing is an important part of the scientific process, so it is advantageous that members have a safe place where they can grow their conference and skill.

Fortunately, AWE members are well supported by the entomology department head, Dr. Phillip Kaufman, faculty, and staff. Martin expressed her gratitude for the department's support. AWE is grateful that they are given the change to invite a speaker for the entomology department seminar series each semester. Each member is granted the chance to nominate and then vote on potential speakers.

For the Fall 2020 semester, AWE hosted Dr. May Berenbaum. Dr. Berenbaum is an entomologist who is a member of the National Academy of Sciences and editor-in-chief of Proceedings of the National Academy of Sciences. Due to COVID-19, her seminar had to be via Zoom. However, she gave such a fantastic talk that the limitations of a virtual seminar weren't an issue. Afterwards, students and other participants were able to ask career development questions. Through experiences like this, AWE continues to serve its community and promote opportunities for women in STEM.

- Joanie King

Joanie is a doctoral student in the Department of Entomology.