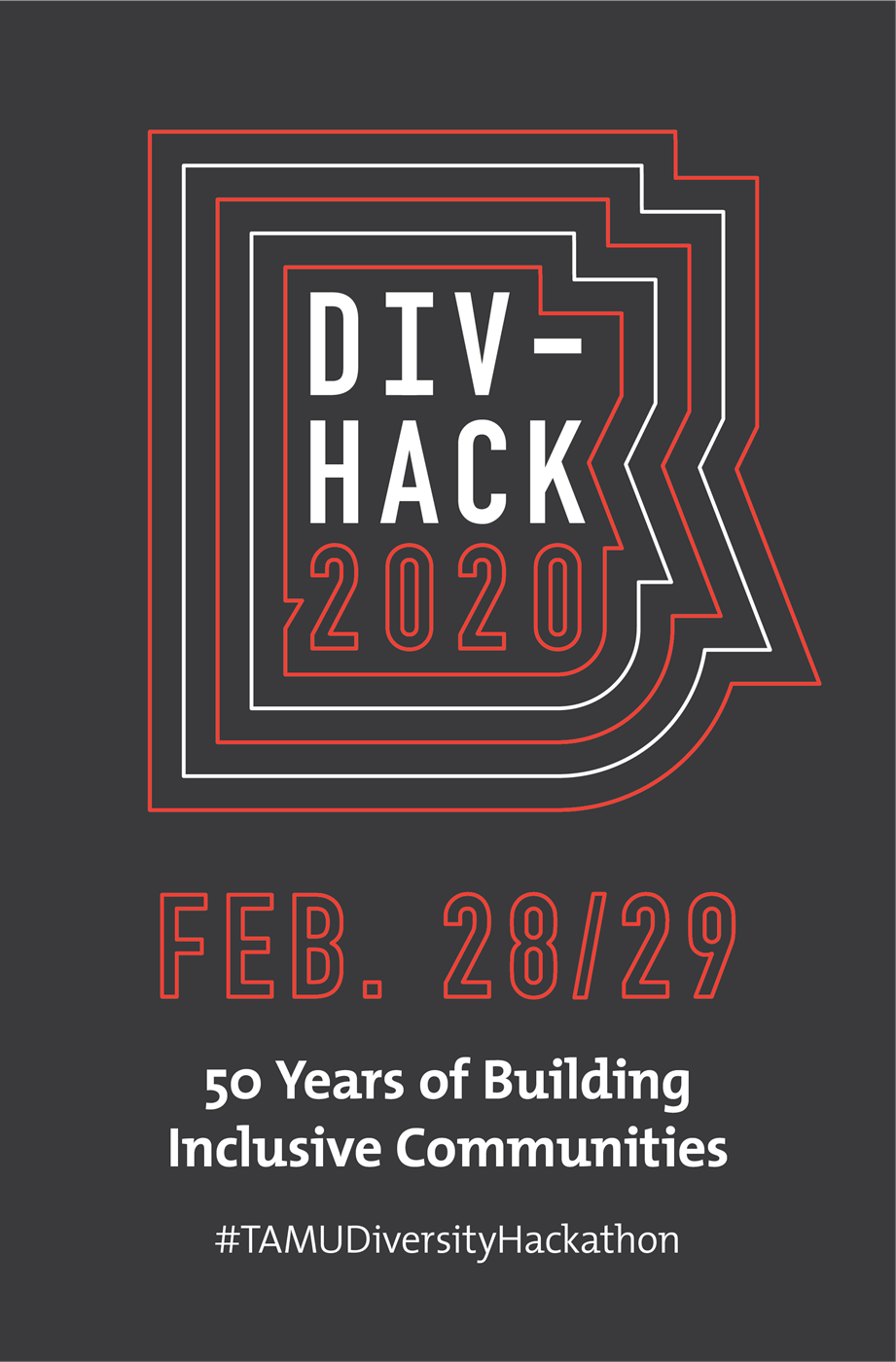 The College of Architecture Diversity Council will be hosting a Diversity Hackathon (DivHack) on February 28-29, 2020 in the Langford Architecture Center. This year's theme is 50 Years of Building Inclusive Communities. Challenges at this DivHack will address topics relevant to diversity and inclusion issues on campus and beyond. Registration deadline is Sunday February 23. I have been a participant and organizer of this 24-hour event, so here are some of the reasons that you should consider participating in this hackathon.
First of all, the hackathon is an all-major friendly event. Unlike traditional hackathons, where projects are mainly tech-centered and you will need some computing and coding skills to participate, this DivHack welcomes people with all kinds of skills set. In previous years, we've had challengers looking for result in various forms such as concept design, physical space design, as well as marketing campaign and awareness campaign design. The hackathon is an open ended competition, and results can be submitted in any shape or form. The challenges or problems you face, are also not limited to tech problems. Instead, we focus on problems that are vivid for different campus communities, so the nature of these problems are usually social, cultural, or physical.
Secondly, the hackathon would be a terrific opportunity to meet and make new friends, especially people who are not from your own discipline and college. We as organizers give out an award every year just for the most interdisciplinary team. This means that if you are successful in assembling a team of 6 coming from 6 different colleges, you are more likely to take away this award! Because we require everyone to participate in the final presentations, everyone's input and effort is highly valued. So come prepared and be ready to make it a highly interdisciplinary experience!
The third reason, which is also the highlight of this year's hackathon, is that we will follow up on some practical ideas, in order to help realize your projects. The School of Innovation here at Texas A&M is bringing in special funding for our event, and they are looking for deliverable results that can make real changes. In previous years, we had many amazing ideas but few actually got realized in the long run. This year, we will try to make it better by sponsoring some follow up work through this I-School partnership.
So don't wait till the last minute, and register now for the Diversity Hackathon 2020! Participation is free and all food and drinks are covered. You also receive a free T-Shirt. Here is the registration link:
http://docs.google.com/forms/d/e/1FAIpQLSfWTUvabqBNs3Y43S3DRU4WLVVnfpledQP1nQC3RFb3WClhFA/viewform
You can find information of past hackathons here:
www.arch.tamu.edu/diversity/Events%20and%20Programs/Diversity%20Hackathon/index.html
Please also follow the College of Architecture Diversity Council on Facebook (
www.facebook.com/TexasDiversity/
) for the latest information.
---Mingqian Liu
Mingqian Liu is a fourth-year doctoral student in the Department of Architecture