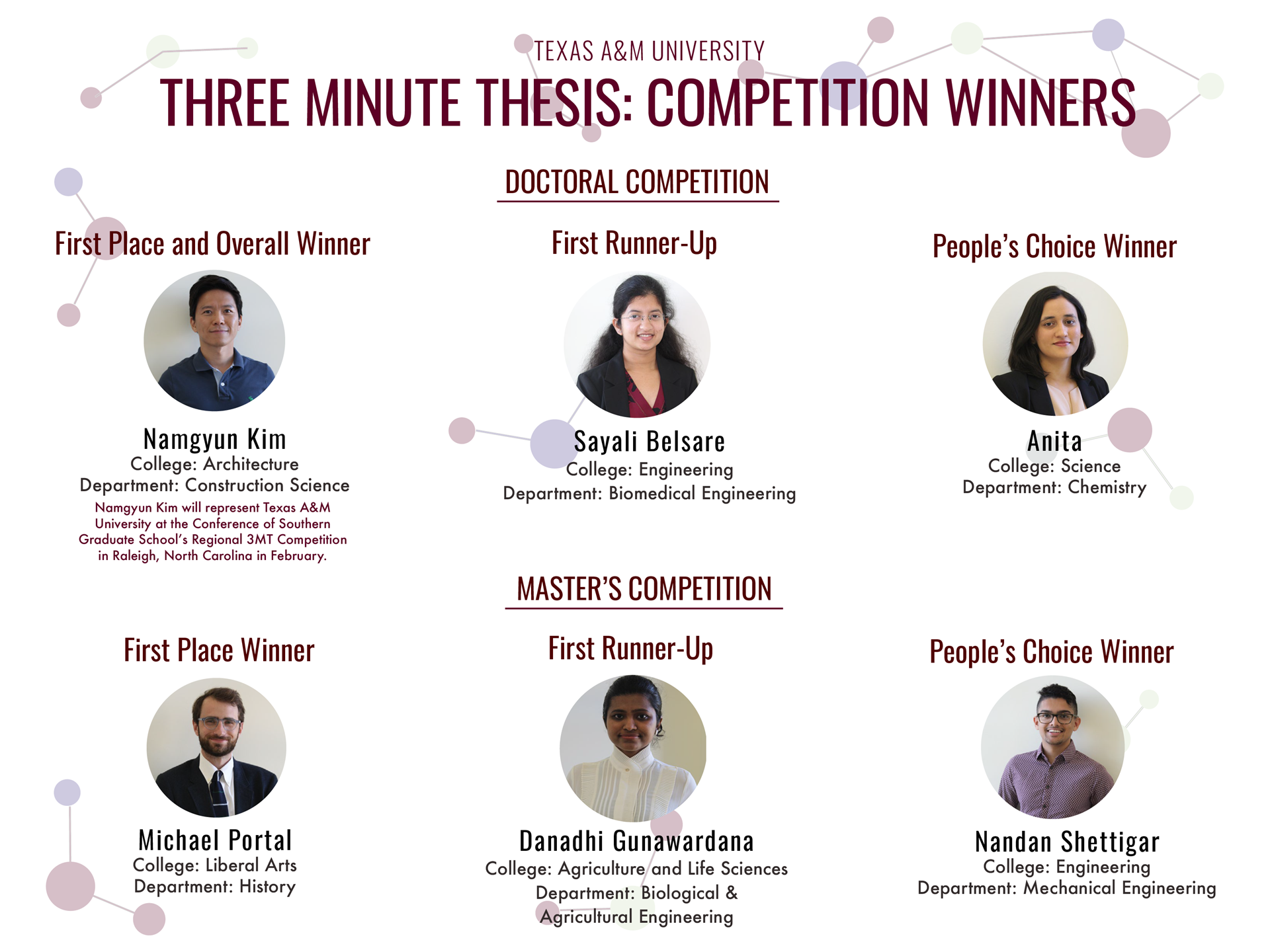 College of Architecture's Namgyun Kim Wins the 2021-2022 Three Minute Thesis Competition Finals

Three Minute Thesis Tests Students' Ability to Present Their Research in Three Minutes or Less, to a General Audience
COLLEGE STATION, November 22, 2021 – A research presentation on virtual reality training that can reduce injuries for high-risk workers took top honors at Texas A&M University's
Three Minute Thesis
(3MT®) competition on Thursday, November 18.
Namgyun Kim, a doctoral student in College of Architecture's Construction Science program, beat out nine other finalists to place first in the doctoral category and win the overall competition for his presentation, "Virtual Accident Simulation for Restoring Workers' Attention to Hazards."
Other winners in the doctoral category were Sayali Belsare from the College of Engineering, who placed second for her presentation, "A Prick in Time Saves Fifty-Nine: An Alternative for Traditional Diabetes Monitoring," and Anita from the College of Science, whose presentation "Microencapsulation of Bitumen for Solid-Phase Midstream Transportation & Protecting Vulnerable Ecosystems from Oil-Spill Contamination," won the People's Choice Award.
In the master's category, the History Department's Michael Portal took top honors for his presentation, "Lascaux: Contested Memory & Meaning (1940-1945)." Danadhi Gunawardana from the College of Agriculture and Life Sciences placed second and for "VR Videos for Manure Management Education." Nandan Shettigar from the College of Engineering was the winner of the People's Choice Award for "Investigating the Brain: Toward a Richer Understanding of Our World."
The Graduate and Professional School, along with co-sponsors the Center for Teaching Excellence – English Language Proficiency Program and the University Writing Center, hosted the event in Rudder Forum before a live audience and streamed for viewers worldwide on Zoom.
The 3MT® competition, developed by the University of Queensland (Australia) in 2008, gives students three minutes to present a compelling oration of their research and its significance to a general audience, using just one slide. The event has garnered worldwide popularity as a vehicle to help students develop their presentation skills and as a venue to showcase student research.
Five judges – including last year's 3MT winner Amin Davoodi, now an Assistant Professor at the University of Texas Permian Basin – from the university campus and greater Bryan-College Station community evaluated presenters based on two criteria: presentation content and the contestant's ability to convey that content in an engaging and clear way. In both the master's and doctoral categories, winners earned $1,000 for first place, $500 for runner-up, and $500 for the People's Choice Award.
After his win, Kim praised the format of 3MT: "The rules of the competition (3 minutes, a single static slide, and avoid jargon) helped me improve my presentation skills and encouraged me to focus on how my research can resonate with a general audience," he said.
Kim thanked his department for supporting him and, especially his faculty advisors, Changbum Ryan Ahn from Construction Science and Co-advisor Brian A. Anderson from the Department of Psychological and Brain Sciences. "Without their teaching and guidance, I could not have done this," Kim said.
Ahn and Anderson were both excited, but not surprised, by Kim's win. "Nam's research combines some of the best of construction science and perception science in a unique way. It is groundbreaking, could literally save lives, and offers a unique window into how the human brain learns and adapts," said Anderson. Ahn added, "Nam is a natural communicator who is able to use the power of storytelling to explain complex science."
Construction Science Department Head Patrick Suermann said Kim's win was a testimony to the strength of the young Construction Science PhD program (just launched in fall 2021), the only such program in Texas.
"Nam is one of our best PhD students and we are honored to have him represent the new Construction Science PhD by winning this prestigious competition," Suermann said. "Texas A&M surpassed the $1B mark in research by conducting innovative and impactful research in programs across campus. For Nam Kim to win this competition shows that the research occurring in the College of Architecture is of the highest quality, of great renown, and benefits our myriad constituents and stakeholders like the Architecture-Engineering-Construction industry.
Karen Butler-Purry, Dean of the Graduate and Professional School, praised Kim and the other finalists. "All of the presentations were outstanding," Butler-Purry said. "This is the ninth time we've held this competition and it gets better every year. It really showcases the high-level graduate student research happening at Texas A&M."
As the overall winner, Kim will go on to represent Texas A&M in the 3MT® regional competition at the Conference of Southern Graduate Schools' annual meeting February 19-22, 2022, in Raleigh, NC.
Kim is already looking forward to the next round of competition. "I am looking forward to the challenge in the regionals and very proud to be representing Texas A&M," he said.