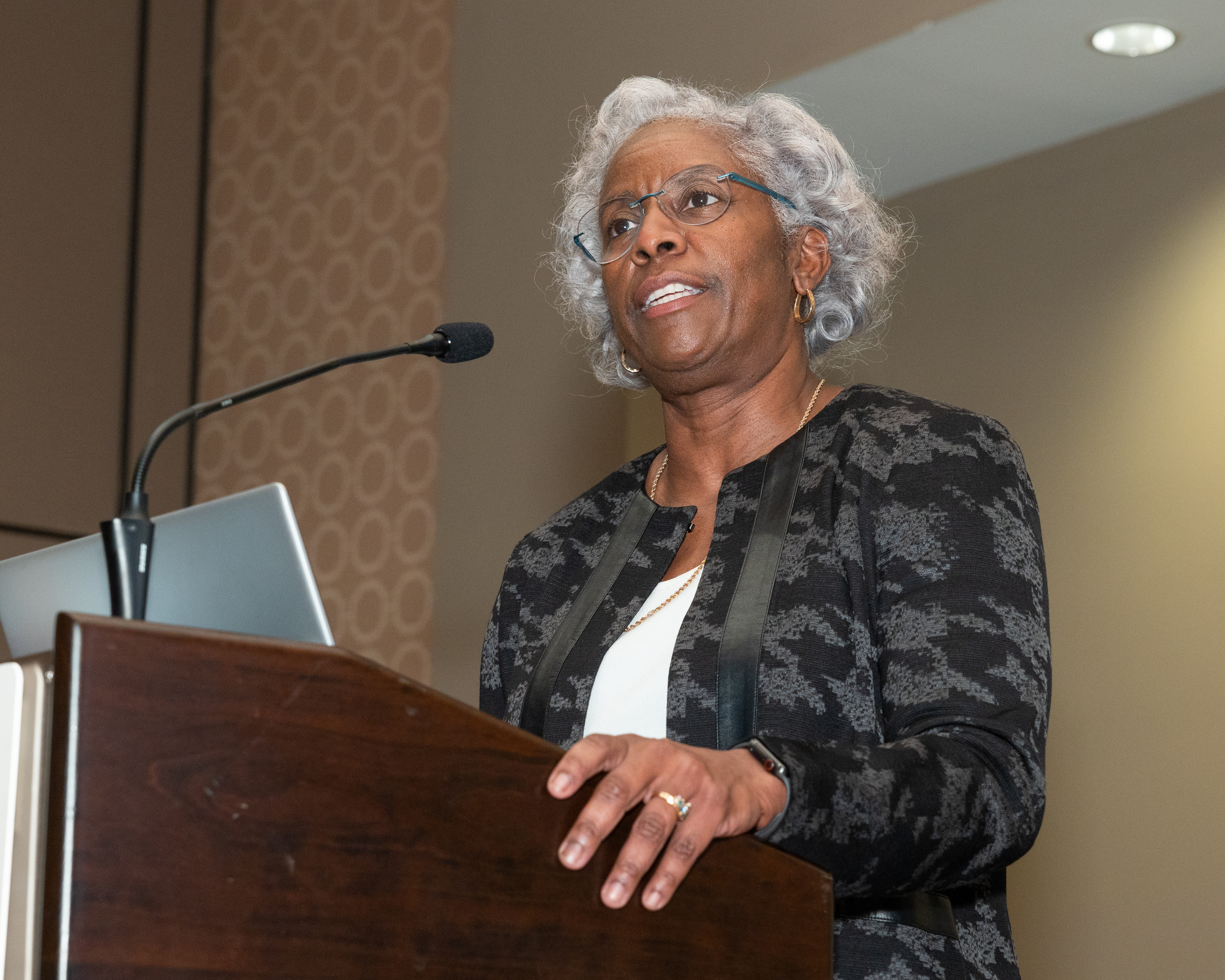 Dean Karen Butler-Purry Receives Award for Outstanding Leadership in Graduate Education
COLLEGE STATION, December 6, 2021 – Karen Butler-Purry, Texas A&M Associate Provost and Dean of the Graduate and Professional School, has been named the 2021 recipient of the Debra Stewart Award for Outstanding Leadership in Graduate Education by the Council of Graduate Schools (CGS). Butler-Purry was presented with the award on December 2 at the CGS Annual Meeting in New Orleans.

CGS praised Butler-Purry for her invaluable contributions to Texas A&M University, including improving graduate students' quality of life, educational experiences, professional development opportunities, as well as expanding access and funding opportunities for underrepresented minoritized students. In addition, CGS recognized her service as chair of the CGS Board of Directors and on the Executive Board of the Association of American Universities' (AAU) Association of Graduate Schools and her advocacy for graduate education across the country in the areas of graduate student well-being, diversifying career pathways, and broadening diversity resources.

"The CGS Board of Directors is pleased to recognize Dr. Butler-Purry's leadership and service to the graduate education community," said Dr. Andrew G. Campbell, dean of the Graduate School at Brown University and chair of the Council's Board of Directors. "Karen is a passionate advocate for graduate student success and well-being. Under her leadership, Texas A&M University has developed comprehensive learning outcomes for master's and doctoral students, increased data transparency, and demonstrated a deep commitment to ensuring access and opportunity for all."

Timothy P. Scott, Texas A&M's interim provost and executive vice president, said that the university is grateful for Butler-Purry's outstanding service and passion for graduate education.

"Dr. Butler-Purry's leadership exemplifies the ingenuity, persistence and fearlessness that has gotten her – as a woman of color – where she is today. She has skillfully guided the growth of graduate and professional education at Texas A&M and has been a constant advocate for diversity, inclusion and access to graduate education over the last eleven years. Because representation matters, her service to Texas A&M and graduate education stands as a model of excellence for young women, people of color, and people of other minoritized populations aspiring to leadership roles in higher education. This is a well-deserved award and Texas A&M could not be more proud of her," Scott said.

Butler-Purry said she was especially honored to receive the Debra Stewart award, given the role Stewart played in her development as a leader in graduate education.

"This is a special honor," Butler-Purry said. "Debra took me under her wing as I transitioned into my leadership role in graduate education at Texas A&M and in my early involvement with CGS. Her mentorship has been invaluable to me over the years, and her leadership, passion, and dedication to advancing graduate education has been something I have tried to emulate."

In her acceptance, Butler-Purry thanked her staff for the important work they have done to transform the Graduate and Professional School's role at Texas A&M.

"Together, we have changed the perception of what the Grad School does. Ten years ago, we were seen as a processing office that sometimes presented unnecessary obstacles for graduate students. Today, we are valued by our community as an advocate and supporter of graduate students and a collaborative partner with which faculty, administrators and staff work to strengthen graduate programs, support students, champion equity, and advance graduate education at Texas A&M and beyond."


By Rob Dixon, Texas A&M University Graduate and Professional School
###
Media contact: Rob Dixon, Texas A&M University Graduate and Professional School, 979-458-8584, rdixon@tamu.edu.