The Improbable Doctoral Journey of Flora and CJ Harmon
The married couple, parents of four, and now PhD graduates are mining their experiences to help provide opportunity and improve the lives of others.
By Cori Eckert, Texas A&M University Graduate and Professional School
This Saturday's master's and doctoral commencement will be especially meaningful for Flora and CJ Harmon. The two graduates of the doctoral program in Teaching, Learning and Culture (TLAC) are a married couple who managed to parent four young children while earning PhDs over the last seven years in College Station.
Having already landed jobs at the non-profit
American Institutes for Research (AIR)
, where researchers collaborate with government organizations, policy-makers and practitioners to improve public health and education and help families thrive, Flora and CJ are now working to help create for others the same kind of support that has made their success possible.
Crossing Paths and Paving Their Own Road
Flora and CJ met at the University of Chicago's Crown Family School of Social Work, Policy, and Practice. CJ arrived late. "I tried to slide in there gracefully," he recalls, but I made a bit of a scene." Flora noticed. Later, when he approached her in the library to ask for her number, she obliged.
They forged a connection based on their attraction to one another and their shared goals to support families and provide opportunities for people.
"We are fortunate to have each other," CJ said, "We share a passion for improving the quality of life for families across all domains. Flora agrees: "We were both entering graduate school so we could make a broader impact on communities," she said.
They dated throughout their master's program as they both pursued their respective tracks, Flora in clinical social work and CJ in social service administration. Then they got engaged and then married shortly after graduation and stayed in Chicago to start a family.
They had their first child, Willie, when CJ was working for the Illinois African American Family Commission and Flora completed the clinical experience requirement of her program by working in local churches.
With a second child (Olivia) on the way, CJ got an offer to take a position in the multicultural center at South Dakota State University. Having grown up with a father who served in the Air Force and traveled and lived around the world, CJ embraces new experiences and embraces and appreciates different ethnicities, religions, and cultures. "Moving from a place like Chicago to South Dakota was another way to experience something new," he said.
In South Dakota, CJ implemented new programming for the multicultural center, while Flora worked as a teacher mentor at the Fishback Center, South Dakota State's preschool program.
"It was eye-opening," CJ said. "There weren't a lot of diverse cultural resources for students. I had to get creative. I was able to bring my experience with student support and challenge students to think critically.. I met some great people, learned a lot, and made a difference. While I was there, we saw a dramatic increase in retention rates for minoritized students."
Flora, too, sees their time in South Dakota as a valuable learning experience. "It shaped my perspective on the importance of childhood development in rural communities," she said. "Children in rural communities face challenges in lack of access to resources just like children in Chicago."
After two years in South Dakota, the couple's journey led them to Texas, this time pursuing an opportunity for Flora. A native Houstonian and graduate of Abilene Christian University, Flora traveled to Houston to spend time with family in Texas. While there, she visited a local pre-school with a Reggio Emelia-inspired pedagogical approach, which Flora describes as "Montessori's hippie cousin." After meeting with school staff, they unexpectedly offered her a job.
The move to Houston brought them closer to Flora's family, fostering a robust support system. CJ embraced the role of a stay-at-home dad, allowing Flora to continue her work in early childhood development.
That's when CJ began seriously considering PhD programs.
"For both of us, getting a PhD was always something that was in our heads," CJ said. "We had young children and our family was growing so I knew it was complicated. And while there's never really a perfect time to go back to school or to apply, I was able to muster up the courage to say, 'Okay, if I'm gonna do it, I gotta do it now."
As CJ navigated the application process, Flora began to consider it more seriously too. "CJ had been preparing application materials for months. I remember I was seven months pregnant, maybe eight with Joseph, our third child," Flora said. "I was sitting on the couch and rubbing my belly and I knew it would sound crazy, but I looked at CJ and said, 'I'm going to get my PhD, too.' He was like 'What!?' The application is due in two months, you haven't taken the GRE.' I hadn't planned anything. I just knew it was what I wanted to do."

Becoming Aggies
The Harmons' journey to Texas A&M was paved by Flora connecting with Dr. Radhika Viruru in TLAC. "I kept seeing her name among the nation's most preeminent scholars in early childhood education," Flora said, "so I sent her an email."
Viruru saw potential in Flora right away and invited her and CJ to campus to visit the Department of Teaching, Learning and Culture. "I was impressed with their experiences, their professional goals, and the way they supported each other and their family," Viruru said. "They were a breath of fresh air."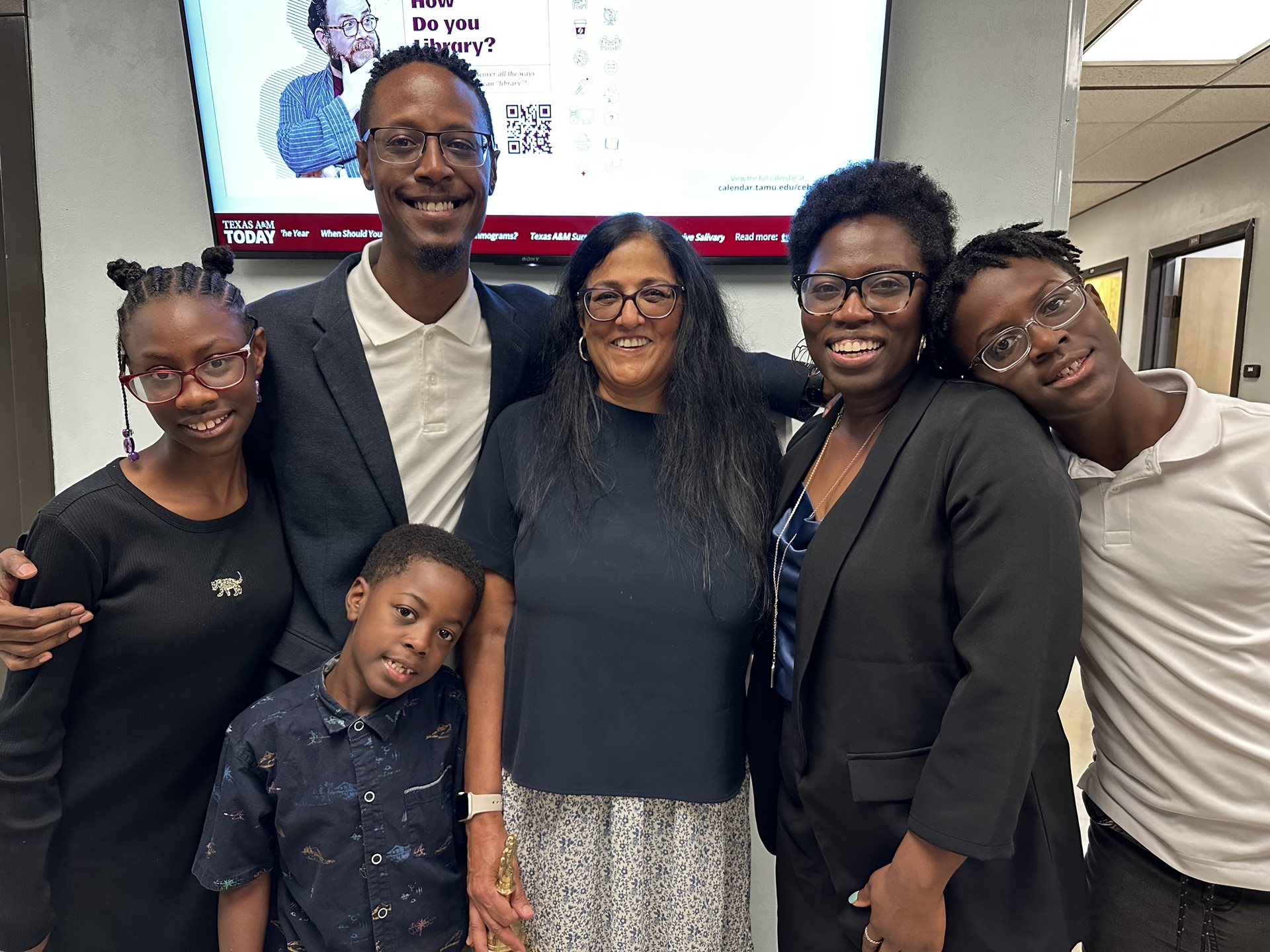 CJ and Flora both applied and were admitted to the program on the same day. Flora quit her job, and the Harmons moved to College Station.
"The department was really welcoming," Flora said. "Our kids got so used to coming to class with us that my oldest started answering questions. Being early childhood-focused, I'm very big on challenging assumptions about where children are welcomed. My TLAC professors were very supportive of that and supportive of us as a family."
"We couldn't have done what we've done without our community. People such as Dr. Marlon James (currently Associate Professor at Prairie View A&M University), Dr. Norvella Carter (retired Texas A&M professor) and programming offered by Dr. John Singer in the School of Education and Human Development and so many more supported us" CJ added. "The Becky Gates Children's Center was like a second home for us, and programs like the Grad School Summer Workshop and Retreat, led by Dr. Karen Butler-Purry and Dr. Adrienne Carter-Sowell, all these things contributed to a feeling of community that was really important to us and helped us succeed," Flora said.
Passing It Back
Before being hooded as doctoral graduates, the Harmons returned to Chicago through their roles at the American Institutes for Research (AIR). Flora, an early childhood researcher, leads projects including one aiding families affected by the Flint water crisis. She designs tools for cultural responsiveness education for young children. CJ works on advancing justice and community safety research.
CJ feels fortunate to have launched careers that so perfectly align with the goals they had when they decided to apply to doctoral programs. "It's gratifying that we were able to bring our lived experiences to our academic programs and research, and now we can take what we've learned and the skills we've developed and share, mentor, and support youth and families."
Flora agrees: "The work we're doing today is what we went to grad school for," she said. "I couldn't imagine being good at this job without the education I got at Texas A&M."
Viruru, the professor who brought them to campus, is not surprised by their success or the direction in which they are headed. "They are rigorous researchers, relate well to others, and have ambitious professional goals to make a difference for people. I fully expect to see them excel on the national stage as educational leaders," she said.
Flora is happy to share their story if it will inspire others to pursue similar paths. "You know the stars don't have to perfectly align for someone to go to college or to even get a PhD," Flora said. "Just because you have kids or other challenges or you don't go straight from high school to an undergraduate program or straight from undergraduate to grad school doesn't mean you can't do it. You just need to be determined and supported to make it happen."


***
Media Contact: Rob Dixon - rdixon@tamu.edu