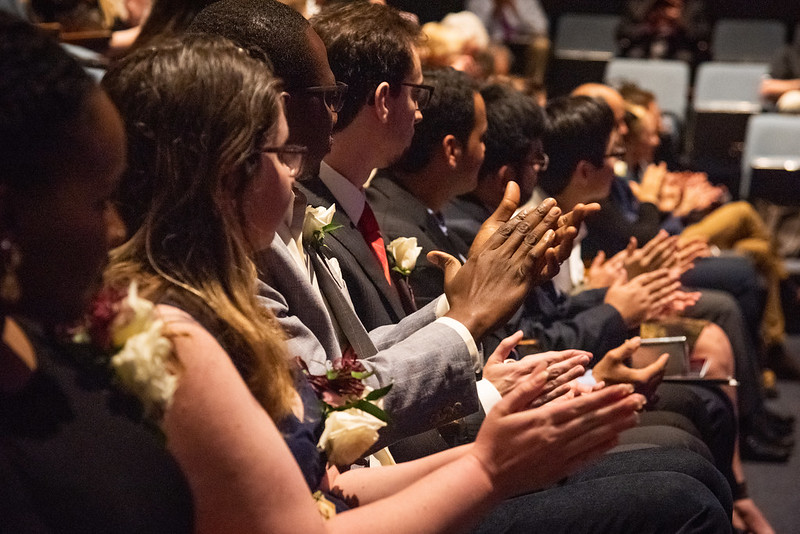 COLLEGE STATION, April 30, 2020 – Eighteen Aggies in doctoral programs have been named 2020 Distinguished Graduate Students by the Office of Graduate and Professional Studies and The Association of Former Students. Distinguished Graduate Students have earned one of Texas A&M's highest levels of recognition for their extraordinary accomplishments in research or teaching.
"Graduate students enhance the intellectual spirit of our university, contribute to our research and teaching missions, and advance scholarship in their fields of study," said Dr. Karen Butler-Purry, Associate Provost for Graduate and Professional Studies. "Thanks to The Association of Former Students' support, we are able to recognize 18 of our most exemplary graduate students this year."
President and CEO of The Association of Former Students Porter S. Garner III '79, agrees: "The admirable work of the graduate students recognized with this year's Distinguished Graduate Student Award bring honor, prestige and recognition to Texas A&M," Garner said. "Since the inception of this award in 1965, The Association of Former Students is proud to recognize graduate students' excellence in research and teaching, as well as their embodiment of Texas A&M's core values of Excellence, Integrity, Leadership, Loyalty, Respect and Selfless Service."
Each award recipient will receive a framed certificate and custom gold watch from The Association. In lieu of a ceremony and reception to honor these students, OGAPS and The Association are planning alternate ways to celebrate their accomplishments.
The 2020 Distinguished Graduate Student research and teaching award recipients, along with their departments, colleges, and faculty advisors, are as follows:
Research Awards
Brent Ryan Bielefeldt, Aerospace Engineering, College of Engineering
Faculty Advisor: Dr. Darren Hartl
Liang Feng, Chemistry, College of Science
Faculty Advisor: Dr. Hong-Cai Zhou
Keshav Karki, Toxicology, College of Veterinary Medicine & Biomedical Sciences
Faculty Advisor: Dr. Steven H. Safe
Lauren A. Lewis, Toxicology, College of Veterinary Medicine & Biomedical Sciences
Faculty Advisor: Dr. Ivan Rusyn
Alyssa Myers, Veterinary Integrative Biosciences, College of Veterinary Medicine & Biomedical Sciences
Faculty Advisor: Dr. Sarah Hamer
Clayton Reed Mulvihill, Mechanical Engineering, College of Engineering
Faculty Advisor: Dr. Eric L. Peterson
Prashanth Kumar Siddhamshetty, Chemical Engineering, College of Engineering
Faculty Advisor: Dr. Joseph Kwon
Hua Wang, Chemistry, Materials Science and Engineering, College of Engineering
Faculty Advisor: Dr. Xiaofeng Qian
Teaching Awards
Na Young Ahn, Health and Kinesiology, College of Education and Human Development
Faculty Advisor: Dr. George Cunningham
Chante Ajalon Anderson, Communication, College of Liberal Arts
Faculty Advisor: Dr. Kristan Poirot
Michaela Baca, English, College of Liberal Arts
Faculty Advisor: Dr. Nandra Perry
Jessica C. Benson, Agricultural Leadership, Education, and Communications, College of Agriculture and Life Sciences
Faculty Advisor: Dr. Jennifer Strong
Kimberly Clough, English, College of Liberal Arts
Faculty Advisor: Dr. Marian Eide
Suresh Joshi, Educational Psychology, College of Education and Human Development
Faculty Advisor: Dr. Steven Woltering
Hyunkyung Kwon, Teaching, Learning and Culture, College of Education and Human Development
Faculty Advisor: Dr. Robert Capraro
Lacey N. Roberts, Agricultural Leadership, Education, and Communications, College of Agriculture and Life Sciences
Faculty Advisor: Dr. Tobin Redwine
Ellen Song, Chemistry, College of Science
Faculty Advisor: Dr. Kim Dunbar
Felicia York, Communication, College of Liberal Arts
Faculty Advisor: Dr. Lu Tang
By Rob Dixon, Office of Graduate and Professional Studies
###
Media contact:
Rob Dixon, Office of Graduate and Professional Studies, at:
rdixon@tamu.edu
or (979) 845-3631