Texas A&M at Qatar - PhD Students Win Shell.AI Hackathon For Sustainable and Affordable Energy

Texas A&M University students Mohammed Lameh & Marcello Di Martino took the top prize in the university category at the Shell.ai Hackathon for Sustainable and Affordable Energy.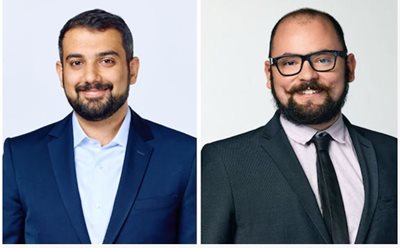 Shell, together with Microsoft and Udacity, invited participants to solve EV Charging Network Challenge. The task was to optimize an electric vehicle (EV) charging network, so it remains robust to demographic changes and meets customer demand. The event aims to bring together brilliant minds passionate about digital solutions and AI, to tackle real energy challenges and help build a lower-carbon world.
Lameh, a graduate assistant at Texas A&M at Qatar, is currently pursuing his Ph.D in chemical engineering. Di Martino is a third year PhD student in the Artie McFerrin Department of Chemical Engineering at Texas A&M University in the Multi-parametric Optimization & Control Group.
"The experience was fun and informative. I participated with my colleague Marcello Di Martino, in the competition as the problem we had to solve fits into our field of expertise, and hence, it was intriguing to us to try and find a solution," said Lameh. It was very interesting to participate in such big event organized by one of the leading companies in the energy industry. Of course, we were really happy and delighted that our solution won the 1st prize of the university edition of the competition, and that validated the effort that we've put in. What makes the win even more valuable is that it opened an opportunity to collaborate with Shell on developing our method further through a joint project with the university, and this will add a great value to the work I am doing at Texas A&M University at Qatar.
He added that the competition allowed them to enhance their soft skills, critical thinking skills, collaboration and time management. "Participating in this competition helped us to hone our soft skills, in addition to gaining the technical knowledge that we needed to address the problem. I was working on the competition in parallel with my research work that I have for my Ph.D., and for that I had to manage my time to be able to accomplish on both sides and fulfill all my commitments within the deadlines that I had. Moreover, I was participating in this competition with my colleague, and we collaborated efficiently in order to make the most out of the set of skills that each of us possess, and this great team effort led to the win in the end. Some aspects of the problem that we had to solve required me to learn and apply some technical skills that I lacked, and I have read and acquired valuable knowledge through that, and I may apply what I learned to the current research project I am working on for my thesis.
The competition saw over 3,900 registrations, and 20 shortlisted participants competed in the finals.

***